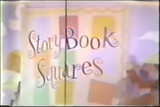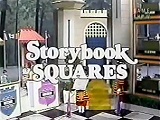 Aired
NBC Saturday Mornings, January 4, 1969-August 30, 1969; 1976-December 30, 1977
Run time
30 Minutes
Host
Peter Marshall
Announcer
Kenny Williams "Guardian of the Gate"
Origination
NBC Studios, Burbank, California
Storybook Squares was a game show.
Game Format
Edit
Original 1969 version
Edit
Like the normal version, two contestants competed (with a boy as X and a girl as O). The game was played exactly the same as the original Hollywood Squares, but no money was involved. Instead, the children played for prizes, with one being awarded per game won.
1976-1977 version
Edit
Although the original 1969 series only made 16 episodes, the format returned as part of the regular series from 1976–1977 for special theme weeks. However, the format differed slightly, featuring teams with three generations of family members (for example, grandmother/mother/daughter). Each game was worth $300, with each team earning $50 per square should time run out (similar to the short-lived NBC primetime version from 1968). The kids played for the first segment of the show, and their parents squared off in the next game, and the grandparents for the rest of the game, unless time was running out, in which case all three players on each team played.
The team with the most money at the end of the game won a large prize, such as a car or exotic vacation.
International Versions
Edit
Merchandise
Edit
Episode Status
Edit
The Hollywood Squares
Match Game Hollywood Squares Hour
Hollywood Squares (1986)
Hollywood Squares (1998)
Hip Hop Squares
Hip Hop Squares (2017)