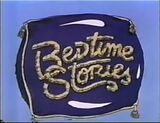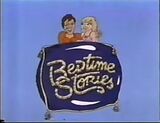 Aired
Pilot, March 9, 1979
Syndication, June 18, 1979-August 1979
Run time
30 Minutes
Hosts
Al Lohman and Roger Barkley
Announcer
Kenny Williams
Origination
Studio 6, KTTV Television, Los Angeles, California
Bedtime Stories was a game show.
Game Format
Edit
Original Format
Edit
Two very different formats were played on the show. In the original format, Two married couples who are interviewed by Lohman or Barkley in their bedrooms discussed their "secrets" for a successful relationship. Later in the show, these two couples competed against each other as they tried to guess how many out of 100 people responded to sex-type questions (ex: Many Couples Have a Special Feeling When They Meet. Is That Feeling Love or Lust?). Each correct prediction was worth $500 each. Three questions were played in each "match-up".
New Format
Edit
After ten shows in two weeks were taped, the format was changed. In the new format, two married couples tried to guess how the other couple responded to a question in a pre-recorded segment. However, just like in the original format, each correct prediction was worth $500 each.
Lohman and Barkley's (and Kenny Williams) first short-lived Heatter-Quigley produced game show was Lohman & Barkely's Name Droppers on NBC daytime from 1969 until 1970.
The theme song and music cues from the pilot were also used on To Say the Least.
International Versions
Edit
Merchandise
Edit
No Merchandise was made based on the show.
Episode Status
Edit